Spending a Memorable Family Recreation in Subang Square, Indonesia
---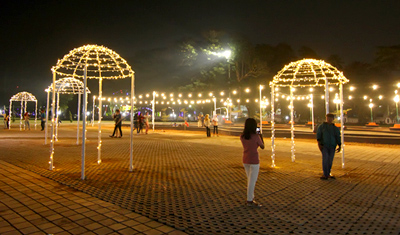 Each city indeed has a square or "alun-alun", which becomes a good place for gathering and where many festivals occur. For those coming to Subang City, they must not miss the chance to visit Alun-alun Subang! This Subang Square is located in RA Wangsa Street, Karanganyar Village actually. In terms of popularity, the locals and tourists often come during weekends to conduct various activities like hanging out, buying local snacks, sightseeing, jogging, and much more! Thus, citizens do not need to spend a long trip in order to relax and get rid of stresses. Thanks to the square.
The Nuance
Like other squares of a city, Subang Square features a wide field in the midst of the site. Several big trees also become the most common feature there. Plus, several chairs and places to relax are available! The nuance is indeed merry, especially during holidays and weekends. Thus, visitors should expect lots of visitors here. Another important feature is the big gazebo, used especially for relaxation. In the morning and afternoon, some joggers are seen on the site! Later, at night, beautiful sparkling lights of the city beautifies the square perfectly.
Exploring Subang Square
The best time to visit Subang Square is either during weekends or holidays. Sunday becomes the most popular occasion, for sure. It is because the nuance feels merrier due to the presence of many visitors on the site. This becomes a good occasion to make some new friends as well. What is more? Those who visit the square can simply sit and relax under the trees. This can be done while eating snacks and chatting with families or friends, for sure.
Most visitors of Subang Square are none other than local families. They usually come with kids and enjoy a family recreation happily. Not to mention they would conduct fun activities like chasing pigeons, playing bubbles, etc. In fact, the square features a playground including swings and slides. Those who come alone, though, can enjoy other things like reading books and photography. They can even take advantage of the square to enjoy jogging and other types of casual exercising.
What is next? Subang Square is suitable for community gathering. Occasionally, several communities and clubs gather on the square to socialize. These include cat lovers and photography community! No wonder, the square becomes quite crowded during holidays, especially Sunday. Even some people are seen on the square at night, as they want to enjoy the evening nuance surrounded by sparkling lights of the nearby structures.
Nearby Attractions
Ranggawulung Forest
Subang Monument
Pasirkareumbi Park Foundation
Planet Water Boom
Wisma Karya
How to Get There
From Subang City, it takes only several minutes (around 7-10 minutes) to get to the square. It is because the distance is only 2.1 km, so everyone can reach it without hassles. When it comes to the most efficient route, always take Jayawisatra – Ade Irma Suryani Nasution Street. Have no worries. Many types of local transportation services are available including minibuses, taxis, and "ojek".
Where to Stay
Lembah Sarimas Hotel
Betha Hotel 
Grant Hotel
Diamond Hotel
Lotus Hotel