Cipeureu Waterfall in Ciater Sub-District, Subang Regency - Indonesia
---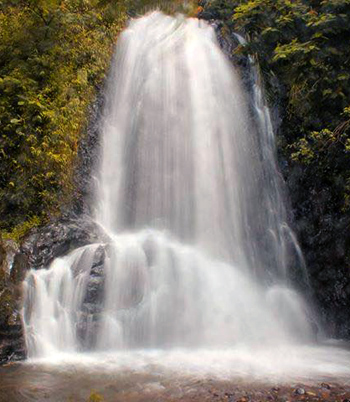 Perhaps Nagrak Village, Ciater Sub-District, becomes the most famous vacation destination in Subang Regency, Indonesia. There is a reason for it, indeed. It is the fact that the village offers several stunning waterfalls including Cipeureu Falls. To be exact, it resides in Dawuan Hutment and has another name which is Kembar Waterfall. In terms of name, "Pereu" means corrosive. The rumor has it. Any metal materials would rust if they are thrown there. Despite the story, tourists come to the location to conduct fun activities like selfies and taking a bath under the falls.
The Nuance
In terms of size, Cipeureu Waterfall has a moderate height but it comes with the swift flow of water. So, why is Cipeureu called "Kembar" Waterfall, though? "Kembar" means twin, actually. According to the locals, there was another waterfall back then. However, those falls became one due to the decreasing amount of water source. No wonder, tourists can only find one wide waterfall instead of two branched falls on the site. Still, it remains beautiful as before and keeps luring more visitors over time! So, what can people do there?
Exploring Cipeureu Waterfall
Cipeureu or Dawuan Waterfall offers a good serenity to visitors. This kind of peaceful ambiance occurs due to the fact that the waterfall is located in a secluded area, covered by local tea plantation. This explains why most visitors come to the location in order to get rid of stresses caused by daily routines. They can simply watch the flow of the water and enjoy the nuance. Even the atmosphere feels so cool, especially in the morning (which is suitable for lessening).
The next allure of Cipeureu Waterfall is definitely the presence of tea plantation, located near to the site. Thus, tourists can take the chance to witness local farmers' activity from close range. It even provides an opportunity to do photography. Not to mention visitors have the chance to explore the area and conduct trekking. One thing, they must carry bottled water and wear comfy footwear in order to enjoy such activity better. Another important tip is that they must carry a camera with them. Everyone can freely take pictures of the site, after all. Though, it costs some money to enter the site, as visitors must pay the entrance fee.
What is more? Cipeureu Waterfall also holds an interesting myth. According to the locals, a female ghost often roams on the site. She usually wears ancient royal clothing with a shiny crown. People believe that she was once a princess of the local kingdom who was exiled in this area.
Nearby Attractions
Banceuy Village
Ciater Hot Spring
Bentang Waterfall
Gurug Heroy
How to Get There
From Subang City, tourists can take any local transportation service and head to Ciater Sub-District right away. Their next destination is Nagrak Village and they need to walk for several minutes to get to the site. The whole trip takes about 1 hour, as the distance is 31.3 km actually. When it comes to the route, tourists can take Palasari Dua – Babakan Street.
Where to Stay
Gracia Spa Resort
Sari Ater Hotel
Tea Garden Resort
Ciater Hotel