Nanas Monument in Jalancagak Sub-District, Subang Regency - Indonesia
---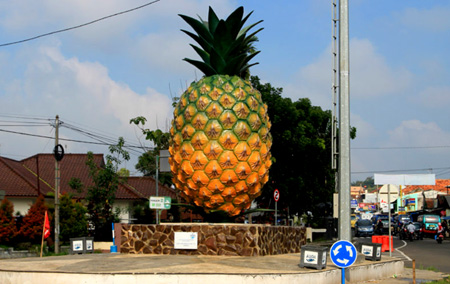 Who doesn't like pineapples? Well, such sweet fruit never fails to satisfy everyone. Speaking of which, there is a unique landmark located in Jalancagak Sub-District in Indonesia called Nanas Monument! It is a primary object of photography for those who visit Subang Regency, after all. As the name suggests, the monument has the shape of "Nanas" (a pineapple) and it resides at the intersection crossing towards Pantura, Sumedang, and Bandung. There is a reason why the local government decided to build such unique monument, though. It is because Jalancagak Sub-District has the widest pineapple plantation or farms as compared to others within Subang Regency.
The Nuance
In a nutshell, Nanas Monument becomes the icon of Jalancagak Sub-District. In fact, the locals consider it as the symbol of Subang Regency! Thanks to abundant production of pineapples. Subang becomes one of the best suppliers of such delicious fruit to the entire nation. In terms of size, it represents a giant pineapple featuring whole black paint on it. It has the height of about 4.75 meters and has the diameter of 1.9 meters. One thing, the monument is located in the midst of a roundabout. That means tourists must not be careless when exploring the site when taking pictures or selfie.
Exploring Nanas Monument
The monument has a worthy history for tourists to learn, actually. According to the locals, this landmark became a border between Subang and Cisalak. However, today, the monument has become a new tourist attraction of the region. It even symbolizes the daily routines of local farmers, who produce lots of pineapples and other fruits. These pineapples look different than regular ones, though. They have a smaller size with a sweeter taste. The locals often call them "si madu", actually.
After hearing the history and some information regarding Nanas Monument, tourists should take some pictures of the landmark and conduct selfie there. As mentioned before, though, they need to pay attention to the traffic. It is because the monument resides in a roundabout, so many vehicles often pass by (especially during high traffic). Here is another consideration. They must not cause troubles on the location. At least, they must avoid bothering road users during the visit.
Later, before going home, tourists should visit a nearby gift shop to buy numerous types of foods and snacks made of pineapples. These include chips, dodol, and rujak! The price is nice and these come with a unique taste. Even tourists are able to get a cheaper price if they know how to perform bargaining! As an alternative, they can get the help from a local tour guide to do the bargaining for them.
Nearby Attractions
Segalaherang Town Square
Aulia Aquarium
Cileuleuy
How to Get There
For those who come from Subang City Indonesia, they can simply head to Jalancagak Sub-District. The distance is 17.9 km, so the trip may take about 35 minutes or more. For a faster trip, travelers need to take Raya Cijambe Street. Have no worries. The monument resides in a roundabout, so it is quite noticeable.
Where to Stay
Anugrah Hotel
Lembah Sarimas Hotel
Permata Sari Hotel
Garuda Hotel
Abah Hotel