Blanakan Crocodile Breeding in Subang Regency, Indonesia
---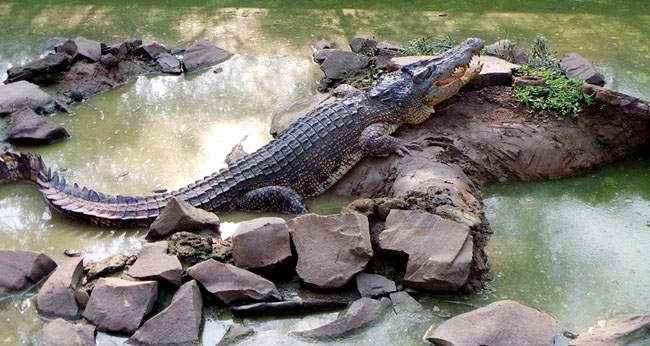 There is an interesting tourist site in Subang Regency, called Blanakan Crocodile Breeding. As tourists may expect, they can witness such ferocious reptiles on the site and take pictures of them directly. Have no worries. Despite the scary nuance, it is safe to explore the breeding site. Actually, the facility is managed by the government and has become another option of a vacation destination for those coming to Subang. Not to mention becomes a perfect place to spend a good time with families or friends during weekends.
The Nuance
Due to the popularity, Blanakan Crocodile Breeding Site gets more visitors over time. Most of them are local families with kids, but some people come from other regions as well. The management takes care of hundreds of crocodiles on the site, placed in distinct ponds depending on the age. In terms of size, they vary! There are two most famous crocodiles, though, and their names are Jack and Baron. They are the biggest ones as compared to others and they have the scariest look as well. In terms of facilities, the site provides food stands, kids playground, parking area, and boats.
Exploring Blanakan Crocodile Breeding Site
The most popular activity to do in Blanakan Crocodile Breeding Site is definitely to feed those wild reptiles. However, tourists need to spend some money to buy ducks or chicken provided by the management. Later, what they need to do is to throw them to the cage of the crocodiles. Such feeding frenzy is indeed interesting, so make sure to take pictures of such moment with a camera. One thing, everyone should avoid getting close to the cage in order to avoid any accidents.
During exploration, tourists might notice piles of straw located on the right side of the cage. It is the place where female crocodiles lay their eggs, actually. For lucky visitors, they may witness the hatching process directly! Here is the tip. Make sure to talk to the management before visiting the site, in order to make sure to come at the right time (when the eggs are going to hatch). Some tour agencies would help everyone regarding such arrangement of schedule, in fact.
Another recommended thing to do in Blanakan Crocodile Breeding Site is to eat good food on nearby eateries. These include seafood, grilled fishes, and Peuyeum. Located under shady trees, those eateries indeed provide good comfort and nuance to visitors. After getting around the breeding site, eating delicious foods is the best idea, no?
Nearby Attractions
Cijengkol Dam
Grend Ciasem Subang
Mbah Sarkowi Tomb
Kali Bawah Bridge (Sasak Regasih)
Cilayama Birds Club
How to Get There
From Subang City, travelers only need to get to Blanakan Sub-District and head to the breeding site right away. The distance is 51.1 km, so the trip may take about 1 hour and 40 minutes. As for the best route, make sure to take Cipali Freeway Street. For those coming from Jakarta City, though, they need to spend about 3 hours to get there.
Where to Stay
Boas Hotel
Plasa Hotel
Markoni Hotel