Telaga Warna Swimming Pool in Subang Regency, Indonesia
---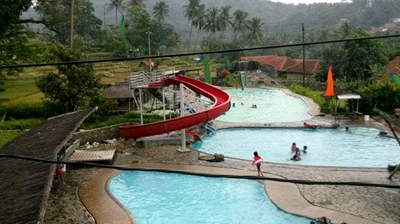 During holidays, families often take their children to numerous tourist sites including local swimming pools. In this case, those who come to Subang Regency should consider coming to Telaga Warna Swimming Pool. The location is in Cijambe Sub-District and it has become locals' favorite site to spend weekends with their kids. Even though there is the ticket fee, the swimming pool offers a great nuance and good facilities to visitors. So, what is it about? As people may expect, it is suitable for swimming and family recreation!
The Nuance
What makes Telaga Warna different than other swimming pools, though? One of the recognizable characteristics is that it resides in the midst of local farms, surrounded by trees and green lush nature. In terms of size, the pool is not quite big but it offers refreshing and clean water. Visitors can also rent the buoys for their kids and use any facilities offered there. Despite the popularity, the pool has not many visitors due to the secluded location. It is a good thing, though. That means tourists can take advantage of such serenity to swim with their families and kids.
Exploring Telaga Warna Swimming Pool
Well, it is without a doubt, tourists would come to Telaga Warna Swimming Pool in order to enjoy swimming. The good thing is that the pool is not quite deep so it suits both children and adults. The only consideration is about the best time to come to the site. As mentioned before, the size of the pool is small. That means it would be uncomfortable if many people get in it. Here is the information. Usually, the locals come to the pool in the afternoon, weekends, and holidays. For those who want a more peaceful nuance, they should come either during working days or in the morning.
What is next? Aside from swimming, Telaga Warna Pool is suitable for a small pool party (even though it is rare). That means tourists can rent the pool for a private party and bring some friends and foods to the site. However, this should be done according to the schedule and they must talk to the management beforehand. This way, the keepers are able to give notification to potential visitors beforehand. For tourists, the only requirement to enjoy such specialty is extra money. Renting the pool for a private party indeed costs more than they may expect, after all.
Another interesting activity to do in Telaga Warna Swimming Pool is relaxing on the floating buoy. Have no worries. Tourists can either carry or rent the item. Make sure to come during good weather, though. For example, it is perfect to come either in the morning or afternoon when there is no heat of the sun.
Nearby Attractions
Pitu Waterfall
China Waterfall
Kujang Mountain
How to Get There
From Subang City, it only takes about 20 minutes to get to Telaga Swimming Pool. It is because the distance is only 11.1 km. It can even be faster if they take Ahmad Yani and Raya Cijambe Street.
Where to Stay
Abah Hotel
Kujang Hotel
Garuda Hotel
Lembah Sarimas Hotel