Kelapa Patimban Beach in Subang Regency, Indonesia
---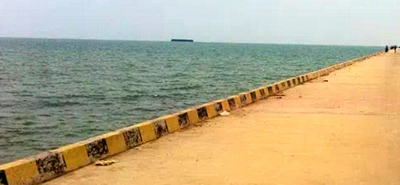 For those coming to Subang Regency, they must not forget to visit a beautiful beach called Kelapa Patimban. As the name suggests, the beach resides in Patimban Village and it belongs to Pusakanagara Sub-District. Due to the popularity, the beach always gets visitors regardless of the time including working days and holidays. These people come to the beach to witness stunning scenery of the sea and enjoy a peaceful ambiance of the site. In a nutshell, Patimban Beach is suitable to get rid of stresses!
The Nuance
In terms of nuance, Patimban Beach is definitely serene. Still, it becomes merrier during holidays or weekends, when many local families spend a vacation there. The only disappointment is that the beach doesn't feature satisfying facilities yet, so tourists cannot rent snorkeling gears, fishing rod, buoy, etc. That means no food stands are seen on the site either. Despite lacking facilities, the beach offers majestic sea scenery and moderate waves. The wind blows comfortably and the sand has the color of red! Such exotic color of the sand makes Kelapa Patimban more unique as compared to others, for sure.
Exploring Kelapa Patimban Beach
As the name suggests, the beach features beautiful coconut trees growing near to the coastline. Due to the presence of such lush trees, tourists can simply sit and relax under those trees while watching stunning sea scenery. For those who look for more interesting activities, though, they can enjoy beach walking and play beach volleyball. What is more? There is a sky boot or boat service for tourists to rent. This way, they can get around the sea and enjoy breezy wind to their heart's content!
The next interesting activity to do in Kelapa Patimban Beach is none other than fishing. Some spots offer abundant fishes but their size is small. For bigger catches, it is recommended to rent a boat and get to the sea for fishing. It takes more money, but the reward is satisfying for sure. Once catching enough fishes, the next thing to do is to grill them in the evening. Do not forget to get fresh coconuts as the drink, as well. This kind of nuance is similar to that of Hawaii, no?
The last but not the least, visitors can conduct photography in Patimban Beach. The best time to take pictures is, perhaps, during sunrise at dawn. As an alternative, tourists can take pictures of romantic sunset there! As for the tour guide, it is not that necessary. That means everyone can explore the beach by himself comfortably. Still, do not forget to carry extra cash to rent the boat and buy fresh coconut drinks later.
Nearby Attractions
Tanjungpura Beach
Cirewang Beach
Plentong Beach
Mina Misaya Guna
Bintang Ujunggebang Sukra Village
How to Get There
From Subang City, travelers' prime destination is Pusakanagara Sub-District. Next, they can simply head to Patimban Village through Subang Pamanukan Street. The whole trip takes about 1 hour and 50 minutes, as the distance is 49.9 km.
Where to Stay
Panorama Hotel
Domestik Hotel
Makaroni Hotel
Boas Hotel
Darma Wisata Inn
Paris Day Hotel