Lembah Gunung Kujang Fishing Spot in Subang Regency, Indonesia
---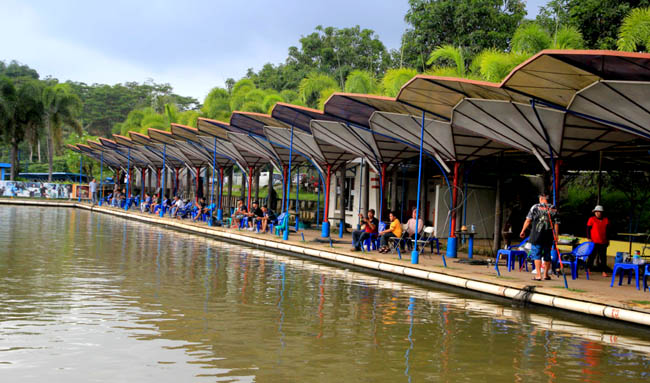 People have a different preference when choosing the best tour activity for their holidays in Indonesia. Well, for families with kids, they should consider fishing! This can be done in Lembah Gunung Kujang Fishing Spot, located in Gunungtua Village, Subang Regency Indonesia. Providing good facilities and accommodations to tourists, the site has become the best place for fishing in such region. Thus, both locals and outsiders can satisfy their hobby and get many benefits from the fishing activity. Parents can even teach their kids how to fish properly and build their confidence over time!
The Nuance
Once arriving at Lembah Gunung Kujang Fishing Spot, tourists can find several buildings and ponds. That means the site offers more than a fishing spot, but other facilities as well. These include Sundanese eateries, swimming pool, inns, family room, etc. The prime ponds have a big size, called Galatama. The others ponds are one "kiloan" fishpond and 4 "harian" fishponds (kilo gebrus). Each of them costs differently, though. In this case, visitors should gather information first before choosing the pond for fishing. Have no worries. The employees are always ready to help them.
Exploring Lembah Gunung Kujang Fishing Spot
Located in an area with the width of 3 hectares, the site indeed can accommodate a lot of visitors. No to mention it resides on the foot of Kujang Mountain, offering a nice atmosphere and fresh air. With such comfy ambiance, visitors would feel comfortable and content when fishing. For common visitors (especially families), they can choose the family pond featuring 40 gazebos! However, visitors can choose other options including reservation pond, featuring cafeteria and fishing accessories stores.
Once enjoying fishing, tourists can either cook or bring the fish home. For those who want to try other types of dishes can buy Sundanese foods at an available eatery, though. This Sundanese restaurant has two levels and it can accommodate up to 70 people! What is more? They can find several cottages and a swimming pool on the site. Therefore, it would be a waste if they do not take advantage of those facilities. Even a hall resides there, that can accommodate up to 200 people. Companies often rent it for a gathering, actually.
In a nutshell, the most impressive thing about Lembah Gunung Kujang Fishing Spot is its complete facilities. That means visitors can enjoy more than simply fishing. Still, first-timers should pay attention to several things before visiting the site. First, they must decide whether to carry their own fishing rod or rent it from the available service. Also, they should carry extra cash if they want to take advantage of all available facilities there.
Nearby Attractions
Telaga Warna Swimming Pool
Pitu Waterfall
Kujang Mountain
China Waterfall
Sari Bunihayu Waterfall
How to Get There
The good thing is that Lembah Gunung Kujang Fishing Spot is located on the roadside. No wonder, it is easy to find the location. From Subang City Indonesia, it only takes about 20 minutes as the distance is 10 km! Also, the best route to take is Ahmad Yani Street.
Where to Stay
Lembah Gunung Kujang Hotel
Abah Hotel
Garuda Hotel
Lembah Sarimas Hotel