Agung Waterfall in Subang Regency, Indonesia
---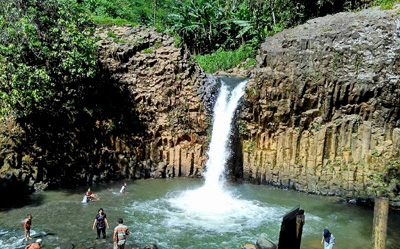 One of the most famous waterfalls in Subang Regency is called Agung. The locals gave such name based on the location, actually. The waterfall is located in Curug Agung Village and it belongs to Sagalaherang Sub-District. Not only it offers the majestic beauty of the falls, it also features stunning Batu Kapur Hill that surrounds the site! This explains why most visitors spend some time to relax and conduct photography there. In some occasions, tourists also get in the natural pond (located beneath the falls) and take a bath in it!
The Nuance
In terms of nuance, Agung Waterfall offers a serene and unspoiled nature. It has the height of about 20 meters and features cool water! As for the background, majestic Batu Kapur Hill is ready to amaze everyone. Not to mention the air is quite fresh there. What about the facilities? Have no worries. The waterfall resides near to camping ground, accommodations, and food stands. Plus, visitors can easily find toilets there. Here is the best thing. There is a hot spring nearby, where tourists can visit later for relaxing.
Exploring Agung Waterfall
The most common reason to visit Agung Waterfall is to conduct photography. Many good spots are available to take pictures, after all. However, most tourists are likely to take selfies in front of such stunning falls. As an alternative, they can take pictures of dense trees that surround the site. They even look more beautiful in the morning with dews on them. On top of that, there is no fee to take pictures of the site. That means everyone can freely use their camera to collect great photos during the visit.
The next impressive feature of Agung Waterfall is the presence of a hot spring, located near to it. With the temperature of about 40 Celsius degree, such natural pond is considered safe for taking a bath indeed. Thanks to the mineral contents like sulfur. The locals believe that it helps them to get rid of skin diseases like rashes and acne. Thus, do not miss the chance to take a bath in it! However, do not spoil the environment by littering on the site.
For first-timers, they need to pay attention to several things before heading to Agung Waterfall. For example, they must come with a good stamina. It even involves short trekking and climbing available stairs. The purpose is indeed to reach a higher ground and get better views of the falls. Also, do not forget to carry bottled water and some equipment to support the trip.
Nearby Attractions
Cina Waterfall
Pitu Waterfall
Batu Kapur Site
Cinangrang Waterfall
Sri Bunihayu
How to Get There
For those coming from Subang Regency, they can simply head to Sagalaherang Sub-District and visit Curug Agung Village right away. The distance is 16.5 km, so it takes about 55 minutes to get there. Also, make sure to take Ahmad Yani Street for a faster trip. Hiring a tour guide is optional, actually.
Where to Stay
Lembah Gunung Kujang Hotel
Abah Hotel
Garuda Hotel