Planet Water Boom in Dangdeur Village, Subang Regency – Indonesia
---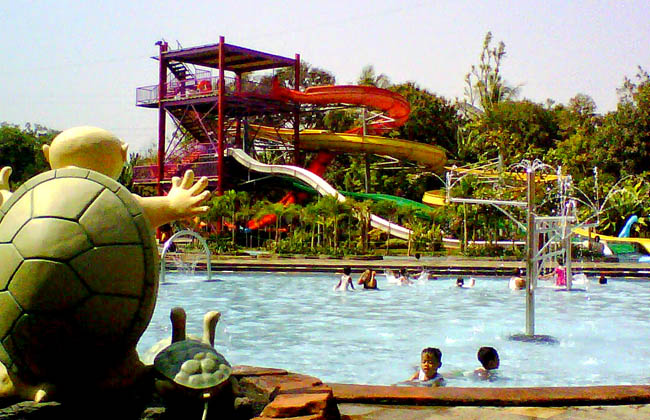 In Subang Regency, tourists can find a nice place for family recreation called Planet Water Boom! The location is in Dangdeur Village and it resides in Brigjen Katamso Street. This popular tourist site is indeed popular among local families and even outsiders. It becomes crowded during weekends, as well! Moreover, it opens daily in the morning and the entrance fee is quite affordable for everyone. Once tourists get to the site, they can enjoy numerous fun activities like swimming, playing water, enjoying water various water rides, relaxation, and much more.
The Nuance
The prime feature of Planet Water Boom is none other than the swimming pool. Have no worries. There are pools for everyone, depending on the age. That means kids can enjoy swimming and playing water in the shallow pool (which is safe for them). Other interesting features of the site are wave pool, currents pool, spilling water bucket, and much more. The site even features a small waterpark with interesting sculpture and plant ornaments. Not to mention some shades reside near to the pool, used for relaxation. Tourists can even rent buoys with a nice price there.
Exploring Planet Water Boom
The most popular water ride is definitely currents pool, featuring 5 water slides with different height. As the name suggests, the pool has a system that triggers comfy currents. That means visitors can simply ride a buoy and sit comfortably on the water. As an alternative, they can swim and use the water slides for more challenging activities. The best thing is that both kids and adults can enjoy these to their heart's content. The buoys ensure their safety, after all. Not to mention some keepers are always ready there.
The next allure of Planet Water Boom is the artificial waterfall. Visitors usually take pictures in front of this site. Later, they want to enjoy available outbound facilities, especially flying fox. Even though each ride costs some fee, they provide an interesting experience for everyone. It doesn't matter the type of water ride they are going to choose, all of them are suitable for everyone regardless of the age. However, kids should stick to the children pool in order to avoid accidents like getting drown.
What is more? The next interesting feature is none other than the spilling water bucket. Even though it is not as big as other water boom's buckets, this feature is impressive enough to visitors. For more interesting activity, there is the pool of waves where they can feel the nuance of the sea! The thing is that parents should supervise their kids when using the facility.
Nearby Attractions
Kang Dian's House
Subang Monument
Ranggawulung Forest
Three Stars Swimming Pool
How to Get There
For those who come from Subang City Indonesia, they only need to spend several minutes (about 7-10 minutes) to get to Planet Water Boom. What they need to do is to head to Dangdeur Village by taking Jayawisatra and Raya Dawuan – Subang Street. As for the distance, it is 2.5 km.
Where to Stay
Permata Hijau Hotel
Lotus Hotel
Rukmawati Hotel
Sederhana 2 Hotel