Cijalu Waterfall in Serangpanjang Sub-District, Subang Regency - Indonesia
---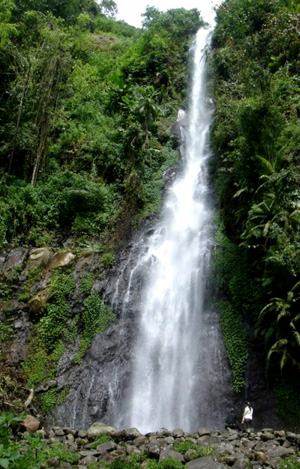 For the next vacation, tourists should consider visiting Subang Regency Indonesia. Why is that? It is the best reference when it comes to beautiful waterfalls! One of them is located in Cipancar Village, which is called Cijalu Waterfall. Also, it belongs to Serangpanjang Sub-District. Here is the question, though. What makes it special as compared to other falls? The most recognizable characteristic is none other than the location, which is suitable for trekking. Also, it resides between hills within Sunda (Burangrang) Mountain area. This explains why many tourists come to the site in order to conduct photography and relaxation!
The Nuance
The good thing is that Cijalu Waterfall resides within Burangrang Mountain Nature Preserve in Indonesia. No wonder, the nuance feels so peaceful and lush. It is surrounded by big trees, bushes, and hills. This ambiance is indeed perfect to spend a wonderful weekend with families or friends while witnessing beautiful falls and bathing in the natural pond. The next noticeable feature of the site is the presence of stones that scatter near to the waterfall. Visitors often sit on those stones during the visit, as well.
Exploring Cijalu Waterfall
The first allure of Cijalu Waterfall is the landscape or location, which is a little bit secluded. That means tourists need to conduct a short trekking in order to get to the site. Instead of being bad news, this fact even attracts more tourists to come to the location. It is because these people want to experience fun trekking before heading to such beautiful waterfall. From Cipancar Village, the distance is about 1.5 km to the falls. During trekking, tourists even may encounter a river and a footpath located in the midst of a forest. Many shrubs grow on the footpath, as well.
Once arriving at the river, tourists only need to follow the path and head to the waterfall right away. One thing, the stones of the river are quite slippery due to the presence of moss that grows on them. Thus, they everyone should be careful when passing through such landscape. In order to avoid accidents, it is better to come during good weather or summer. It is to avoid blockage of the path due to flood, as well, after all.
There is a rumor regarding the name of the site. Some people believe that Cijalu and Cikondang Waterfall is the same site. The fact is that they are two different falls, located in different place as well. However, it is considered too difficult to get to Cikondang due to an impossible landscape. Those who love challenges can try to get to the site, though. Dare you?
Nearby Attractions
Cilemper Waterfall
Tangkuban Perahu Mountain
Planet Water Boom
Karembong Waterfall
Sawer Waterfall
How to Get There
For those coming from Subang City Indonesia, they can take any local transportation service and head to Serangpanjang Sub-District. Next, they only need to visit Cipancar Village and head to the waterfall right away. The whole trip may take around 1 hour and 20 minutes, as the distance is 37.5 km. You should make sure to take Raya Cagak – Subang Street for a faster trip, though.
Where to Stay
Tea Garden Hotel
Sari Ater Resort
Ciater Hotel
Diamond Hotel