Ciater Tea Garden in Subang Regency, Indonesia
---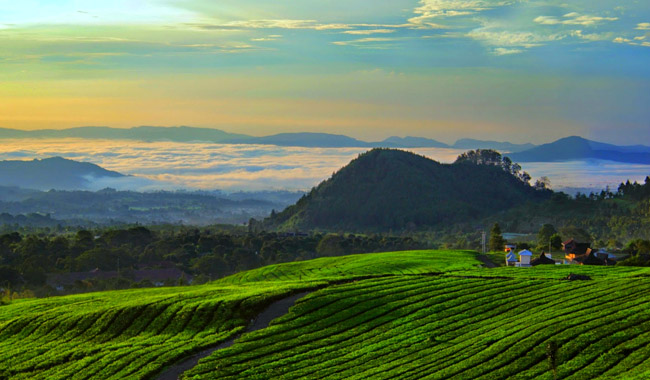 West Java Province, including Subang, becomes a good destination when it comes to nature tourism. In this case, those who look for a peaceful family vacation should never miss an opportunity to visit Ciater Tea Garden! This vast tea plantation belongs to PTPN VIII and has become a good choice to spend the weekends (especially for families) nowadays. Aside from getting around the garden, visitors can learn the history of the site and watch the entire process of tea cultivation directly. As for the best activity, tourists can enjoy "Flying Tea". That means they would do paragliding with the help of a professional there!
The Nuance
In terms of nuance, Ciater Tea Garden is both neat and beautiful. It has the size of about 3000 hectares and features mostly tea farms. In the midst of the farms, tourists may see dirt roads as well. Not many people are seen on the site during working days, though. That means tourists are likely to see only some farmers and workers during the visit. The good thing is that visitors can ride a vehicle to explore the garden due to the wide size of the roads!
Exploring Ciater Tea Garden
The question is what tourists can do in Ciater Tea Garden. First, before exploring the site, visitors should learn its history. According to the locals, the founder of the tea plantation was the Dutch during the colonialism era. Thanks to them. Indonesia took over such manufacturer after got its independence in 1945. These days, the site has been producing tons of dry tea per year! Not to mention it becomes a good option when it comes to family recreation in Subang Regency.
During exploration, tourists can learn the entire process of tea cultivation on the site as well. The thing is that the keepers have applied an automatic picking instead of the manual one. The purpose is none other than to increase the efficacy of such picking process. Once picked, the tea leaves undergo several further processes including withering, milling, fermentation, drying, and sorting. Here is the good thing. Tourists can take pictures of those processes as long as they get permission from the management beforehand.
What is next? It is a rare opportunity, but visitors can enjoy paragliding on the site! It is complicated to get the permission, though. However, some lucky people can enjoy such great activity sometimes. They may fly and explore the tea garden by paragliding with the help of an instructor. Do not forget to prepare some cash to pay the fee, though.
Nearby Attractions
Tangkuban Perahu Mountain
Cibareubeuy Waterfall
Cipeureu Waterfall
Ciater Hot Spring
Masigit Waterfall
How to Get There
For those coming from Subang City, they only need to go to Ciater Sub-District right away. The distance is 30.1 km, so it takes around an hour to get there. Make sure to take Palasari Dua – Babakan Street for a faster trip, though.
Where to Stay
Sari Ater Hotel
Tea Garden Resort
Gracia Spa Resort
Saputra Sari Hotel
Lembah Sarimas Hotel
Gracia Spa Hotel
Ciater Hotel