Cina Waterfall in Subang Regency, Indonesia
---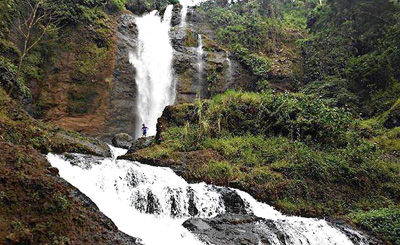 Not all travelers have heard about Cina Waterfall of Subang Regency. Well, it is one of the most recommended waterfalls to visit during a vacation in such region, though. The location is in Curuagung Village and it belongs to Segalaherang Sub-District. Despite the name, it doesn't relate to any Chinese culture at all. Still, some locals say the site was founded by a wanderer who came from China! Regardless of the history, tourists can take advantage of the secluded site for relaxation and sightseeing. Those who love trekking and photography should never miss such opportunity either.
The Nuance
As mentioned before, Cina Waterfall is located in a secluded area. In fact, it resides far from local settlements. This explains why tourists should conduct short trekking to get to the location. In terms of nuance, it is peaceful due to the low number of visitors. Some farms are also seen near to it! In terms of size, it is moderate and features a small river below. The rocky landscape makes it dangerous for tourists to explore, though. Instead, tourists can enjoy swimming and play water there.
Exploring Cina Waterfall
Some tourists are interested to find out the history of Cina Waterfall. Despite the unconfirmed information, some locals have an interesting story about it. It is said there was a Chinese hunter wandering on the location. Due to an accident, he got hurt and died near to the waterfall. The locals, who found the body, decided to name the site based on such accident. Since then, the site is known by both nearby villagers and outsiders! This explains why people keep coming to the location and consider it a nice place for relaxation.
The next reason to visit Cina Waterfall is to enjoy trekking. No vehicles can get to the location, so tourists should walk from Curugagung Village to the site. Not to mention it involves an uphill track later. During trekking, though, they can see beautiful scenery including local farms and lush trees. Despite the wide track, make sure to walk carefully. It is because the route resides on the side of a valley and the landscape is a little bit slippery.
A trekking adventure to Cina Waterfall may take about 30 minutes and the distance is 1.08 km. As for the level of difficulty, the route is moderate so everyone can get to the site without any problems. As for a safer and more efficient trip, hiring a local guide becomes a good idea. This service is available in Curugagung Village, actually. Also, do not forget to wear nice footwear to avoid accidents caused by the slippery landscape.
Nearby Attractions
Pitu Waterfall
Batu Kapur Site
Cinangrang Waterfall
How to Get There
From Subang City, tourists can take any local transportation service and head to Segalaherang Sub-District. Next, they must reach Curugagung Village and conduct trekking to Cina Waterfall. The whole trip may take around 50 minutes as the distance is 12.5 km. As for the route, make sure to take Ahmad Yani Street.
Where to Stay
Kujang Hotel
Abah Hotel
Garuda Hotel