Cijengkol Dam in Ciasem Sub-District, Subang Regency - Indonesia
---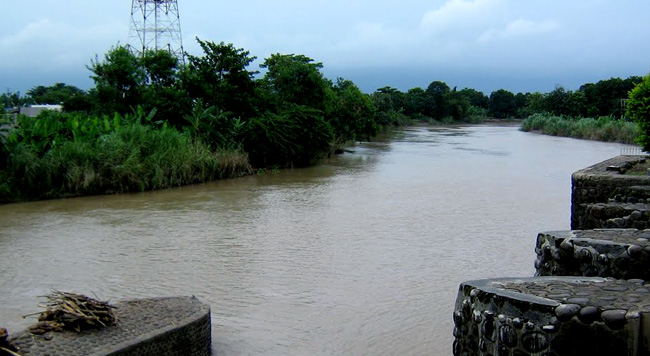 People who live in Subang Regency and nearby regions should have been familiar with Cijengkol Dam. The location is in Sukamandijaya Village and it belongs to Ciasem Sub-District in Indonesia. The prime function of this structure is none other than to contain or store water, used for numerous needs including irrigation and the need of clean water for nearby villagers. However, it also offers a unique nuance for tourists. It is because visitors can take advantage of the dam as the place for relaxation in the afternoon and a background for photography.
The Nuance
In terms of size, Cijengkol Dam is moderate. Despite the modest appearance, it is definitely sturdy and reliable. Almost every day, the locals are seen on the site to enjoy fishing. Perhaps the best time to visit the dam is when the keeper opens the dam! Why is that? It is because the number of the fishes is more than regular days. The only disappointment is that the color of the river is not quite clear, so it is not suitable for swimming. Despite the fact, it doesn't stop tourists to enjoy a good time there. The surrounding scenery is worth a photo shoot, after all.
Exploring Cijengkol Dam
In terms of popularity, Cijengkol Dam is indeed not popular as other tourist attractions in Subang Regency. However, it is worthy enough for those who want to spend a relaxing vacation either alone or with families. So, what can people do there? The most common activity is none other than fishing. The dam even becomes locals' favorite location for fishing. As for tourists, they need to prepare the fishing rod before going to the dam, though.
Aside from fishing, Cijengkol Dam is suitable for photography too. What tourists need to do is to climb on the dam and take pictures of surrounding environment. These include the river, trees, nearby villages, and mountains on the horizon. Somehow, visitors can also take selfies there. One thing, everyone should not be careless when exploring the dam. In this case, it is recommended to come with the local who knows the landscape well.
With the help of a local guide, visitors can also obtain further information regarding the functions of Cijengkol Dam. For example, it is to manage the risk of flood during rainy season. Villagers who live near to river have a higher risk to suffer such natural disaster, after all. Thus, the dam becomes their prime flood prevention. Today, the dam even becomes a new allure for tourists to visit Sukamandijaya Village and Subang Regency!
Nearby Attractions
Sukamandi Bird Park
Santoz Love Bird
Mocips
How to Get There
From Subang City, tourists only need to head to Ciasem Sub-District and visit Sukamandijaya Village. The distance is 37.3 km, so the trip may take about one hour to get to the location. As for the route, tourists should take advantage of Cipali Highway Street. It becomes easier if tourists ask for direction from the locals, actually.
Where to Stay
Boas Hotel
Plasa Hotel
Markoni Hotel
Pondok Ratu Hotel