Beautiful Beach of West Java Province – Plentong Beach
---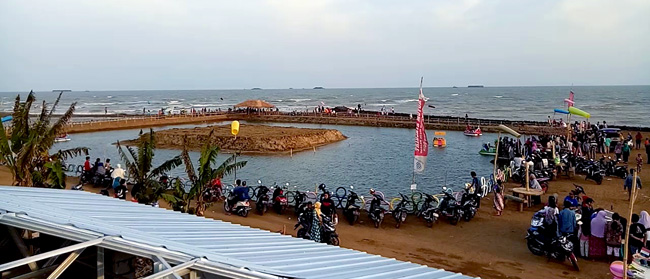 For those coming to Indramayu Regency, they must explore the north part of the regions to find beautiful beaches including Plentong. The location is near to Patimban Beach and the location is quite accessible from either Subang City or nearby regions in Indramayu. Well, what does the name mean, actually? Plentong derives from the Javanese Language, which means the emergence of the sun or the ray of the sun itself. It is because the beach offers its best beauty in the morning, during the sunrise! The sun appears clearly from the horizon, which looks like appearing from the sea.
The Nuance
In terms of nuance, Plentong Beach shares similar characteristics to other beaches of the Java Sea in Indonesia. The waves are moderate and steady, but the color of the water is not quite clear. A small wooden pier resides there, which is perfect for fishing. On the horizon, tourists can witness some ships and boats sometimes. As for the best feature, it is none other than the breathtaking sunrise. This explains why lots of visitors come to the beach in the morning instead of other times.
Exploring Plentong Beach
So, what can tourists do in Plentong Beach? As explained above, the beach is popular for its sunrise. No wonder, many people would come to the site for witnessing such natural phenomenon. This can be down early in the morning even at dawn! Not to mention many good spots are available to enjoy the activity, including the pier. The only consideration is that tourists should come at the right time, so they won't miss such moment. Also, they should not forget to carry a camera!
The next popular activity to do in Plentong Beach is fishing. It, in fact, becomes locals' favorite thing to do when they visit the beach. These people would sit on the pier and set their fishing rod there. For the best result, it is better to come either in the morning or afternoon. Also, it is better to talk to other fishers and get some tips from them. The good thing is that the beach resides near to local settlement. This is why many villagers would come during their spare time and enjoy fishing peacefully there.
Some visitors also choose Plentong Beach in order to spend "Ngabuburit" during the fasting month. They come in the afternoon and wait for the breaking time together with friends or families. The nuance is perfect for gathering and chatting, after all. As an alternative, tourists can choose the beach as the place relaxation or look for inspiration. Thanks to the serene ambiance.
Nearby Attractions
Tanjungpura Beach
Cirewang Beach
Patimban Beach
Mina Misaya Guna
Bintang Ujunggebang Sukra Village
How to Get There
From Indramayu City Indonesia, travelers need to take Raya Pantura Street and head to Sukra Sub-District. Next, they must visit Ujunggebang Village where Plentong Beach resides. The distance is 55.9 km, so it takes approximately 1 hour and 40 minutes to get to the site.
Where to Stay
Panorama Hotel
Domestik Hotel
Makaroni Hotel
Boas Hotel
Darma Wisata Inn
Paris Day Hotel