Mandala Waterfall in Subang Regency, Indonesia
---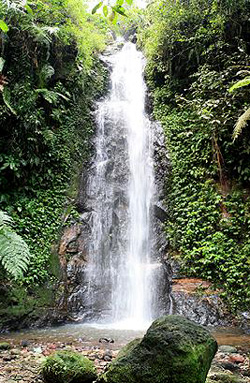 One of the most visited villages in Subang Regency is none other than Cicadas. Why is that? According to many travelers, they want to explore all available waterfalls that reside in that area. Here is an example. The name is Mandala Waterfall, which is known for its unspoiled environment and offers a nice spot for camping. Due to this fact, visitors can enjoy numerous types of activities including photography, sightseeing, bivouacking, and trekking. For those who look for a good place to spend the next weekend, Mandala becomes a good choice for sure!
The Nuance
In terms of nuance, Mandala Waterfall offers a serene atmosphere due to its isolated location. Also, it hides behind a small cliff and features graded flows of water. A small pond resides under it, but it looks insufficient for tourists to take a bath or swim in it. Other features of the site are rocks, bushes, and small trees. Here is the best thing. A tea plantation is located near to the waterfall, so tourists can explore it later. When it comes to the air, the site features fresh and cool air!
Exploring Mandala Waterfall
The first thing to do in Mandala Waterfall is to learn the history of the site. Despite lacking information, the locals say it is named after a famous governor of Pasundan called Mandala. One day, he decided to conduct hermitage near to waterfall and perform a sacred ritual "Moksa" (leaving the world and head to the heaven without leaving any traces or corpse). Knowing the rumor, the locals used the name of such powerful man for the site.
Once learning the history, visitors should take advantage of the beauty of Mandala Waterfall. This can be done by trekking, photography, and exploration. The fact is that it features a graded landscape where other smaller falls reside. Some people, nowadays, use a drone to explore all parts of these falls in fact. In terms of shape, the landscape is similar to stairs indeed. Even though it takes no fee to use a camera or drone, visitors should pay the entrance fee. Have no worries. It is quite affordable.
The good thing is that Mandala Waterfall is under a good management, done by the government. Not to mention a local youth organization involves in taking care of the site. No wonder, tourists can find good facilities including a parking area, small parks, gazebos, toilets, and a place for praying (especially for Moslems).
Nearby Attractions
Nay Subang Larang
Situ Sindangsari
Kri Cikaum Train Grave
Mandala Waterfall
How to Get There
From Subang City Indonesia, travelers can take any type of transportation service and head directly to Binong Sub-District. Next, they can reach the waterfall by heading to Cicadas Village afterward. This trip might take around 50 minutes, as the distance is 21.6 km. However, from the village, visitors can only reach the waterfall either by walking or motorcycle. It is because the site is a little bit secluded.
Where to Stay
Bangun Plaza Hotel
Fera Yulianti Hotel
Sabitha Hotel