Cimuncang Waterfall in Subang Waterfall, Indonesia
---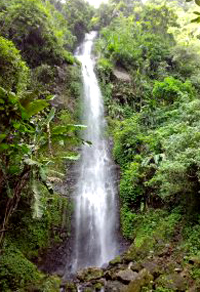 Subang Regency is known for its natural attractions, including beaches and waterfalls. Cimuncang Waterfall is the reference. A grandiose waterfall resides in Mayang Village and belongs to Cisalak Sub-District in Indonesia. Actually, it is part of Cileat Waterfall and becomes a great extra to such stunning falls. What makes it special? What can tourists do on the site? Most visitors are likely to enjoy photography and relaxation. Not to mention taking a bath in the natural pond located below the waterfall becomes a good idea. As an alternative, tourists can explore the site and visit other falls located in such area.
The Nuance
Cimuncang Waterfall is indeed accessible, so everyone can reach the site (even stand below it) without hassles. In terms of nuance, it is similar to other nearby falls. Visitors might feel the cool and peaceful atmosphere once they get to the site. Some bushes and trees grow there, creating a comfy nuance as well. The water goes down beautifully and the flow is not quite strong. Below, there is a pond where tourists can use for bathing and playing water. What about the height? Well, it is around 80 meters!
Exploring Cimuncang Waterfall
Like other waterfalls, Cimuncang is suitable for photography. Visitors can either use the waterfall as the background of photos or take selfies in front of it. Later, they can explore the site and take other interesting natural attractions there. With such kind of opportunity, everyone should not forget to carry a camera when heading to Cimuncang. The next important tip is that they must wear proper footwear in order to avoid getting slipped during the exploration. Do not forget to carry bottled water as well!
Once enjoying photography, visitors should never miss the chance to visit neighboring falls. It is because Cimuncang is part of Cileat Waterfall and other stunning falls, so everyone should explore them all during the visit. For first-timers, it seems daunting to get around the site alone, no? In this case, hiring a local guide would be quite helpful despite the fee. This person even tells tourists regarding some interesting facts and urban stories related to those falls!
One of the neighboring falls has a similar name to it, which is Cimuncang Pasir. However, it is taller and comes with a unique flow of water. Despite the fact, Cimuncang Waterfall is considered the best choice when it comes to relaxation and sightseeing due to its unspoiled and lush nature. Don't you think so?
Nearby Attractions
Tangkuban Perahu Hotel
Banceuy Forest
Bentang Waterfall
Masigit Waterfall
Cileat Waterfall
Wangunharja Village
How to Get There
It is easy to reach the location, as long as tourists know the route. In a nutshell, Cimuncang Waterfall resides in the same area as Cileat Waterfall. From Subang Indonesia, travelers can directly go to Cisalak Sub-District and head to Mayang Village afterward. Later, they only need to conduct short trekking to reach Cimuncang. The whole trip takes around 1 hour and 30 minutes, as the distance is 31.7 km actually.
Where to Stay
Tea Garden Resort
Sari Ater Hotel
Gracia Spa Resort
Diamond Hotel
Pondok Panorama Hotel