Ranggawulung Forest in Subang Regency, Indonesia
---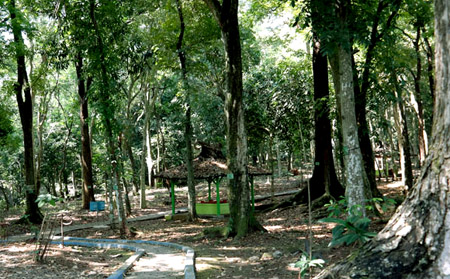 Tourists won't run out of option when looking for a good vacation destination in Subang Regency, Indonesia. Here is an example. The name is Ranggawulung Forest and it is located in Parung Village. As tourists may expect, they can enjoy a good time in this city forest with either friends or families. The fact is that the site has become one of the icons of Subang for decades! Visitors can simply hang out with people that they love while drinking fresh coconut under shady trees. Plus, the forest offers great landscapes for photography as well.
The Nuance
Due to its popularity and good accessibility, Ranggawulung Forest becomes one of the prime tourist attractions in Subang Regency. Not only it features big trees and numerous green plants, the site also offers a camping ground! Thanks to the local government. They have built several gazebos and jogging tracks within the forest! Not to mention visitors can find outbound facilities (especially flying fox) there. Even the site features a sacred site where mysterious tombs reside! That means the location is suitable for a religious tour, as well.
Exploring Ranggawulung Forest
The question is what tourists can do in Ranggawulung Forest. Well, the most important thing is related to the mystery. Here is an example. No one can verify how the site got its name. Who is Ranggawulung? According to the locals, though, it was the name of a sacred man (who was buried on the top of the hill of the forest). The location of the tomb is near to the camping ground and villagers often come at night to conduct pilgrimage there. Despite the presence of the tomb, however, there is no further information related to the man.
Aside from the sacred tomb, the site is also famous for its myth. It is said the forest becomes the home of mythical snakes. The locals even believe the presence of a magical empire that resides there! Moreover, some villagers testified that they have seen giant snakes with the head of a beautiful woman. They also said some mythical tigers live in that area. As for tourists, the myth sounds illogical indeed. However, they won't do any careless or disrespectful things during the visit, for sure.
Regardless of the myth, Ranggawulung Forest remains popular among tourists. Not only visitors are interested in the history and the presence of the sacred tomb, they come to the forest to explore the nature. Spending a vacation in a pristine environment (surrounded by trees and bushes) sounds interesting after all. Not to mention the site helps them to relax!
Nearby Attractions
Subang Monument
Planet Water Boom
How to Get There
The distance between Subang City and Parung Village is only 4.1 km. That means the trip takes only about 10 minutes to get to Ranggawulung Forest. As for the best route, tourists can take Ahmad Yani Street. Even many types of local transportation services are available for them to use to reach the location.
Where to Stay
Grant Hotel
Lembah Sarimas Hotel
Betha Subang