Ciater Hot Spring in Subang Regency, Indonesia
---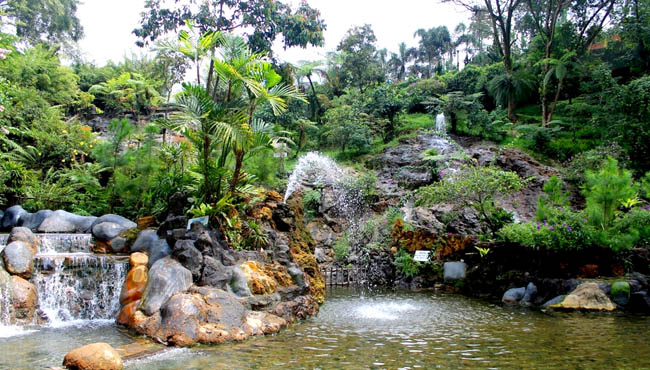 Those who have ever visited Subang Regency have a similar opinion regarding a recommended tourist site. It seems they would revisit a famous place called Ciater Hot Spring on the next occasion. The location is in Nagrak Village and it belongs to Ciater Sub-District. As everyone may expect, the site offers comfy and warm ponds for them to swim and take a bath in. Here is the fact. The popularity keeps increasing over time and it has lured both local and foreign tourists! On top of that, more than 60,000 people visit the site monthly!
The Nuance
The source of the water comes from an active volcano located in such region. However, the locals have mixed it with fresh water and store it in well-built ponds. No wonder, the water becomes warm and safe for swimming! In fact, several facilities reside either on the ponds or near to them. These include chairs, cafes, gazebos, etc. In terms of size, the site has the width of about 30 hectares and it features splendid views of mountains on the horizon. One thing, the ponds become crowded during weekends and holidays, so make sure to come at the right time.
Exploring Ciater Hot Spring
Before getting in the pond, tourists should at least gather some information regarding the history of Ciater Hot Spring. According to the locals, the hot spring was surrounded by dense trees, haunted by ghosts! As the time went by, the keepers developed the site and got rid of some trees. These people were not affected by the story and turned the site into a commercial tourist attraction, instead. Thanks to them. Visitors can enjoy both the warm water and witness beautiful scenery of the surroundings, including mountains!
Not only it feels soothing, the hot spring gives good effects to the health as well. It is said the water contains numerous substances like magnesium, calcium, thermal, chloride, sulfate, etc. Even it has a good level of aluminum. In terms of temperature, it is around 37-42 degrees of Celsius. No wonder, it feels comfortable and safe for bathing. As for the health benefits, taking a bath in this pond helps people to relieve high blood pressure, rheumatism, neurological disorders, etc.
The next impressive thing about Ciater Hot Spring is the presence of fun facilities and rides for tourists to enjoy. That means visitors can do more than bathing! These include fishing, cycling, riding a boat, outbound, and many others.
Nearby Attractions
Jodo Sariater Waterfall
Koleangkak (Biru) Waterfall
Ciater Tea Mountain
Cipeureu Waterfall
Siantong Hill Paragliding
Cibareubeuy Waterfall
How to Get There
From Subang City, a trip to Ciater Hot Spring takes about an hour as the distance is 28.1 km. First, travelers need to head to Ciater Sub-District. Later, they can simply reach Nagrak Village and head to the hot spring right away. Here is the top. Take Palasari Dua and Babakan Street for a faster trip
Where to Stay
Gracia Spa Resort
Sari Ater Hotel
Ciater Hotel
Tea Garden Resort
Sari Kondang Villa
Ananda Villa
Puspa Sari Hotel
Cempaka Villa