Wisma Karya in Cigadung Village, Subang Regency - Indonesia
---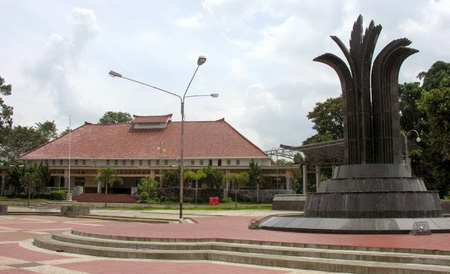 For those who look for a unique tourist site in Subang Regency, they must choose Wisma Karya. This historical structure has become an official attraction of the region and has attracted lots of visitors over time. The location is in Ade Irma Suryani Nasution Street and it belongs to Cigadung Village. People come to this site in order to learn the history as well as to take good pictures of the structure. In fact, the building has been there since the occupation of the Dutch and has become the witness of the independence of Indonesia.
The Nuance
Wiswa Karya Historical Site resides on an area of 1 hectare and it is located in a strategic location as well. In the past, the Dutch used this place for relaxation. It was Mr. Hofland, who ruled the region at the time and he came to Subang in order to expanse the Dutch's territory and ran coffee plantation business. Today, the building looks well-maintained and it features numerous features in front of it including a majestic monument, flagpole, trees, and garden. When it comes to design, it indeed represents the Dutch's architecture.
Exploring Wisma Karya
Once tourists get in Wisma Karya building, they can find many historical items including the photo of the first regent of East Karawang named Danta Ganda Wikarma. This person even became the icon of the birth of the region. Aside from this photo, other pictures also reside on the walls of this building. In the next room, the guests can find a small museum storing historical items that represent the development of Subang City from time to time. Despite the small size, the room has interesting valuable collections!
The number of visitors keeps increasing every day. Most of the visitors are local teenagers and those who are interested in history. Some of them also take advantage of the site in order to satisfy their photography hobby, in fact. Not to mention people who live near to the site often use the building to conduct special events like "Hajatan", musical performance, meeting, and much more. For those who love history, though, they can browse all the collections including fossils and photos.
The main allure of Wisma Karya Museum is perhaps the bronze statue of PW Hofland (the influential person of Subang). It was made in 1878, actually. Located next to his statue, a mysterious female statue resides, made in 1833! Do not forget to take pictures of those unique items, though. It is free to use a camera, as long as visitors obey all the rules given by the management.
Nearby Attractions
Ranggawulung Forest
Subang Monument
Pasirkareumbi Park Foundation
Planet Water Boom
Subang Square
How to Get There
From Subang City, tourists can simply head to Cigadung Village and visit Wisma Karya afterward. The distance is only 1.8 km, so it takes around 8 minutes to get there. As for the route, make sure to choose Jayawisatra and Ade Irma Suryani Nasution Street.
Where to Stay
Lembah Sarimas Hotel
Betha Hotel
Grant Hotel
Diamond Hotel
Lotus Hotel