Capolaga Adventure Camp in Subang Regency, Indonesia
---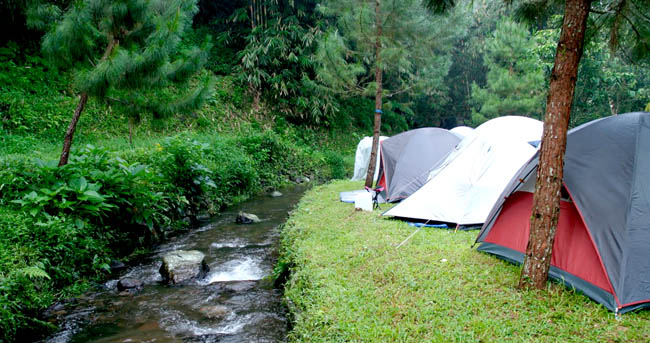 A good family recreation and group activity involve a good tourist site for sure. In this case, tourists should consider visiting Capolaga Adventure Camp of Subang Regency. The location is in Cicadas Village and it belongs to Sagalaherang Sub-District. As tourists may expect, they can enjoy outdoor activities here including camping, recreation, trekking, outbound, and much more! The good thing is that the management provides numerous facilities to the site, ensuring everyone to enjoy those activities comfortably. Thus, make sure to come here with families or friends for the next vacation.
The Nuance
In terms of nuance, Capolaga Adventure Camp is surrounded by beautiful landscapes of nature including pines, dense bushes, grasses, big trees, a river, rocks, etc. The site resides in a hill, so it features fresh and cool air as well. On top of that, the management has built several facilities including gazebos, tents, a bridge, and much more. Another interesting feature of the site is none other than stunning waterfalls that reside near to the camp. The combination of these attractions and facilities is indeed impressive, no?
Exploring Capolaga Adventure Camp
People have many reasons to visit Capolaga Adventure Camp and one of them is to enjoy numerous types of outbound activities. Not only it is perfect for families, the site is suitable for any groups or organizations including employees of a corporation. These people gather in Capolaga to enjoy a group activity in a comfortable environment! These include rafting, fishing, exploration, and climbing. All of these help them to get rid of stresses and build a better teamwork for the sake of working performance.
What is next? As the name suggests, Capolaga Adventure Camp is a perfect place for camping! Thanks to the flawless environment and excellent facilities. Visitors do not even need to carry a tent to enjoy camping there. It is because the management offers tents for tourists to rent! As an alternative, visitors can rent a nearby villa to enjoy a family vacation comfortably. Either way, it is fun to spend the night surrounded by lush nature. Later, in the morning, they can explore the site and perform trekking with either friends or families!
During trekking, tourists can reach three waterfalls that reside in different locations. These include Sawer, Goa Badak, and Karendong Waterfall. All of them are beautiful and offer a soothing nuance for relaxation. As for the tip, during exploration, it is better to carry a camera. It would be a waste if they do not capture good pictures of nature, no?
Nearby Attractions
Ciater Tea Garden
Ciater Hot Spring
Karembong Waterfall
Ibeka Farm (Butterfly Haven)
How to Get There
It is easy to get to Capolaga Adventure Camp. From Subang City, travelers can directly head to Sagalaherang Sub-District and visit Cicadas Village right away. This trip may take around an hour as the distance is 30.5, actually. As for the best route, it is Palasari Dua – Babakan Street.
Where to Stay
Tea Garden Resort
Saputra Sari Hotel
Sari Ater Hotel
Gracia Spa Hotel
Ciater Hotel