Santiong Hill in Sagalaherang Sub-District, Subang Regency - Indonesia
---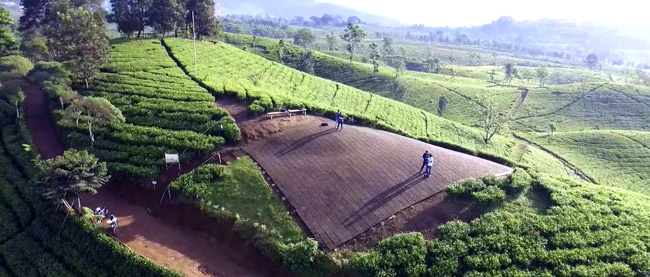 Tourists can conduct many adventures in Subang Regency Indonesia, including paragliding in Santiong Hill. The location is in Cicadas Village and it belongs to Sagalaherang Sub-District. As people may expect, they can enjoy such activity either alone or guided by the instructor. It would be a new experience for those who love nature adventure for sure. As for professionals, the hill offers the best nuance and landscape to do their hobby. Moreover, visitors can take advantage of the environment to satisfy photography activity. Here is more information regarding the site.
The Nuance
In terms of nuance, Santiong Hill offers flawless natural scenery. The fact is that the site is located within Ciater Tea Plantation owned by PTPN VIII. No wonder, paragliding becomes an option for those who visit the plantation and the locals call such activity "Flying Tea". They would fly around and witness lush green landscape of the farms, accompanied by the fresh air of the highland. The good thing is that everyone is allowed to enjoy it regardless of the experience. Thanks to the presence of instructors and their professional services.
Exploring Santiong Hill
Everyone is looking for a new experience when it comes to a vacation. In this case, paragliding becomes a good option for them. Have no worries. Everyone is allowed to take part in this adventure regardless of their skills and experience. It is because the instructors and guides are always ready to help them. After paying the rent and service fee, tourists are ready to enjoy such activity. Here is the thing. Everyone should listen to the instructor when he is giving the explanation about paragliding. Make sure to wear the gear properly as well.
During paragliding, tourists can watch beautiful scenery of the hill and nearby tea plantation. They can even get around the site comfortably from above. Plus, the air feels so cool up there with the breezy wind. Due to the fun, this fun sport has become more popular both among locals and outsiders. Sometimes, in fact, foreigners are seen on the site as they want to enjoy such interesting activity as well. As long as the weather is nice, there is no hassle at all.
Paragliding is not the only activity that tourists can do in Santion Hill. As an alternative, visitors can conduct short trekking and photography on the site. As mentioned before, the hill is located near to famous tea plantation and other attractions including Tangkuban Perahu Mountain and Ciater Hot Spring. Thus, make sure to explore them all later.
Nearby Attractions
Gurug Heroy
Ciater Hot Spring
How to Get There
It is easy to find Santiong Hill as it resides near to the famous tea plantation of Ciater Sub-District. Those who come from Subang City, they need to spend at least an hour to reach the hill as the distance is 28.5 km. This can be done through Palasari Dua – Babakan Street, actually.
Where to Stay
Tea Garden Resort
Sari Ater Resort
Ciater Hotel
Anugrah Hotel
Diamond Hotel
Ciater Highland Resort