Cimuja Waterfall in Subang Regency, Indonesia
---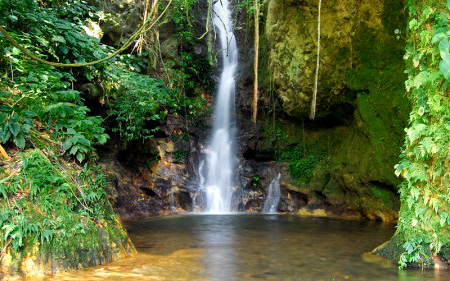 More waterfalls are available for tourists to explore in Subang Regency Indonesia. Here is one of them. The name is Cimuja Waterfall and it resides in Panaruban, Cicadas Village. In terms of territory, it belongs to Sagalaherang Sub-District and has become an official tourist site of the region. The good thing is that the waterfall is located near to the famous Capolaga Adventure Campsite! Aside from the strategic location, the waterfall is considered sacred. No wonder, many locals come to the site to perform a ritual and conduct hermitage. Here is further information regarding this unique falls.
The Nuance
Located on the upstream of a river, Cimuja Waterfall emits a mystical nuance. Not to mention the waterfall is surrounded by shady bushes and located between small cliffs. This explains why the environment is damp and a little bit dark regardless of the time. When it comes to the number of visitors, people are likely to come at night! They believe that their prayers and hermitage become more efficient at that time. As an alternative, tourists can visit the waterfall either in the morning or at noon to enjoy its unique nuance (without getting scared).
Exploring Cimuja Waterfall
As mentioned before, the most noticeable characteristic of Cimuja Waterfall is its mystical nuance. Not to mention the locals consider it a sacred place. This explains why many locals come to the site in order to perform hermitage and kind of rituals! They do such things in order to get good fortunes and luck in the future. Aside from praying, these people also take a bath under the falls! The thing is that such rituals should be done at night and during the full moon. Not all tourists believe it, though.
The good thing is that Cimuja Waterfall resides near to famous Capolaga Camping Ground. That means tourists can find good facilities and accommodations easily. These include the camping ground, outbound facilities, and fishing pond! Plus, other beautiful waterfalls are available nearby including Sawer, Goa Badak, and Karembong. No wonder, trekking becomes a good activity for those who visit Cimuja. They can explore the lush environment of the site and nearby attractions located near to it.
For those who never visit Cimuja Waterfall, they need to pay attention to several things before heading to the site. The most important consideration is definitely the weather. Rainy season is indeed a big no for tourists. Also, do not litter or spoil the environment! Eating snacks on the site is allowed, as long as tourists take care of the trash afterward. The place is quite sacred, after all.
Nearby Attractions
Nay Subang Larang
Situ Sindangsari
Kri Cikaum Train Grave
Mandala Waterfall
Capolaga Adventure Campsite
Sawer Waterfall
Karembong Waterfall
Goa Badak Waterfall
How to Get There
From Subang City Indonesia, tourists can directly head to Sagalaherang Sub-District and visit Cicadas Village afterward. The distance is 21.6 km, so the trip takes only about 45 minutes. As for the best route, make sure to choose Subang Pamanukan Street.
Where to Stay
Bangun Plaza Hotel
Fera Yulianti Hotel
Sabitha Hotel