Ciangin Waterfall in Subang Regency, Indonesia
---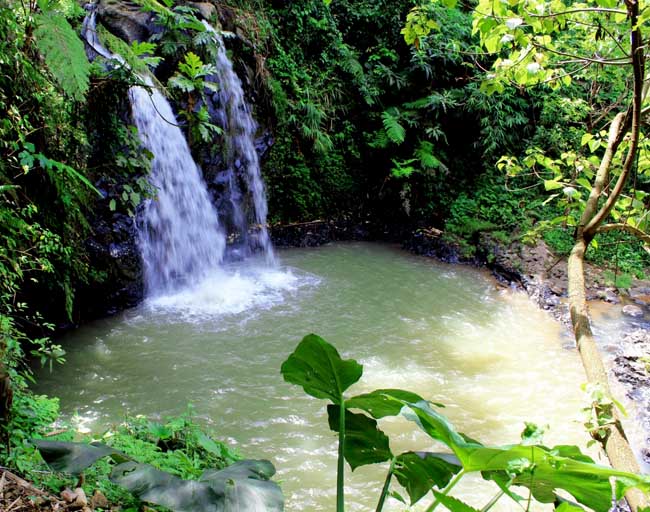 No one can deny the charm of nature. For those who look for a new place to explore in Indonesia, there is Ciangin Waterfall of Subang Regency. The location is in Neglasari Village and it belongs to Ciater Sub-District. The access is considered easy, so tourists can get to the site by either a motorcycle or car. However, they need to park the vehicle near to the local settlement and spend several minutes of walking to get to the site. Have no worries. The views of nature are great there, so it would be a fun trip.
The Nuance
Once arriving at the site, tourists can feel the soothing atmosphere and see beautiful panorama. It is because the waterfall resides near to local farms and it is surrounded by dense bamboo trees. What makes it different than other waterfalls, though? Unlike others, it features two different falls located on the different level. The upper waterfall has the height of 4 meters and it features a small pond or lake (having the depth of about 3 meters) below. Another waterfall, which is taller, is located on the low level and it features a pond with the depth of about 5 meters.
Exploring Ciangin Waterfall
In terms of name, "Ciangin" means a waterfall with a breezy wind. The locals gave the name due to the strong wind of the site, actually. It blows swiftly and creates a cool nuance to the site as well. Aside from such comforting wind, tourists can see several rocks and stones scattered all over the location. It is said these were formed due to the passing lava in the past. Their shape is unique and they come in different size, too. For tourists, these stones can be a wonderful object of photography, no?
Once enjoying photography and sightseeing, visitors should never miss the chance to get to the small lake located under the waterfall. One thing, it is deep so everyone should ensure their swimming skills before getting in. Another important tip is that they must have prepared extra clothes beforehand. No one can avoid getting wet when exploring the site, after all. What about eating snacks and drinking something during exploration? Well, it is allowed as long as tourists take care of the trash later.
Unlike the famous Cibareubeuy Waterfall, Ciangin doesn't come with good facilities. What tourists can find are only a small gazebo and traditional food stand. However, the entry ticket is cheaper as compared to such renowned waterfall. Thus, no one would regret visiting Ciangin Waterfall due to such affordability and interesting experiences.
Nearby Attractions
Ciater Tea Mountain
Ciater Hotspring
Cipeureu Waterfall
Ciangin Waterfall
Tangkuban Perahu Mountain
Bentang Waterfall
How to Get There
From Subang City, tourists can simply go to Ciater Sub-District through Raya Cijambe Street. The distance is 29.9 km, so the trip may take around 1 hour and 10 minutes. Once arriving at Ciater, the next destination is Neglasari Village where Ciangin Waterfall resides.
Where to Stay
Pondok Panorama Hotel
Ciater Hotel
Gracia Spa Resort
Lembang Asri Resort