Bentang Waterfall in Subang Regency, Indonesia
---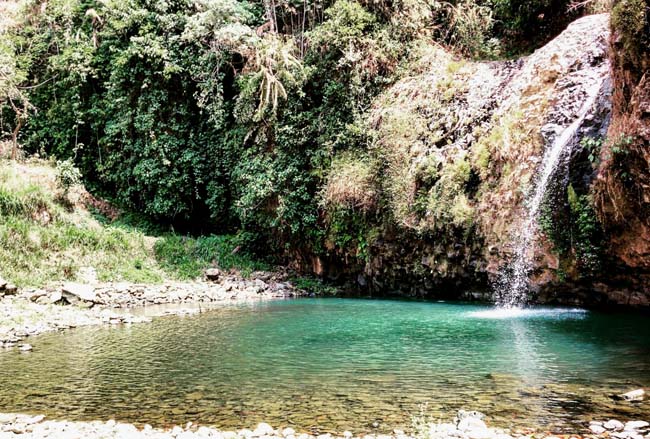 Subang Regency is part of West Java Province and has become a nice option when it comes to nature tourism in Indonesia. Thanks to the presence of a group of stunning waterfalls. Tourists can relax and spend a comfortable family recreation there. As for the reference, there is Bentang Waterfall also known as Curug Bentang! It is located in Cibitung Village and belongs to Ciater Sub-District. Well, the fact is that each waterfall has distinct characteristics. What about this one? Bentang has a perfect pond or small lake where tourists can either play water or swim in it!
The Nuance
In terms of size, Bentang Waterfall is moderate. Even the flow of the water is not quite swift. The falls, though, is surrounded by bushy hills! Not to mention the ambiance is peaceful due to its secluded location. Still, the best feature of the waterfall is the presence of crystal clear pond located right under it. The water looks alluring and it offers fresh sensation as well. Have no worries. It is shallow, so any tourists can safely swim and play in it. When it comes to the landscape, many stones scatter all over the land located near to the falls.
Exploring Bentang Waterfall
There is no reliable information regarding the history of the name of the waterfall. One thing that tourists can be sure of is that it has a smaller size as compared to other waterfalls in Subang Regency. In terms of height, it is only about 5 meters! Once again, despite the size, it has a unique charm which is the small lake or pond located under it. It is the place where tourists can swim and take a bath comfortably! Thanks to the refreshing water and stunning nuance.
The next unique allure of Bentang Waterfall is related to the source of water. According to the locals, Bentang was formed due to the presence of another waterfall located above it! However, an access to get to such waterfall is quite difficult and it seems impossible for people to get there. Not only it is located on a hill, it also features a dangerous route. No wonder, visitors are likely to spend the time on Bentang Falls instead of going up to see its sibling.
When it is about facilities, tourists can find the main gate, gazebos, parking area, toilets, small eateries, and a good access! Due to such good management, without a doubt, tourists should pay the entry ticket in order to get to the site.
Nearby Attractions
Ciater Tea Mountain
Ciater Hotspring
Cipeureu Waterfall
Ciangin Waterfall
Tangkuban Perahu Mountain
Ciangin Waterfall
How to Get There
From Subang City, travelers only need to head to Ciater Sub-District and visit Cibitung Village afterward. This trip takes about 1 hour and 10 minutes, as the distance is 29.3 km. Also, the best route to take is Raya Cijambe Street. Once arriving at the village, visitors need to conduct a short trekking to get to the waterfall. Have no worries. It would be fun!
Where to Stay
Pondok Panorama Hotel
Ciater Hotel
Gracia Spa Resort
Lembang Asri Resort