Karembong Waterfall in Sagalaherang Sub-District, Subang Regency - Indonesia
---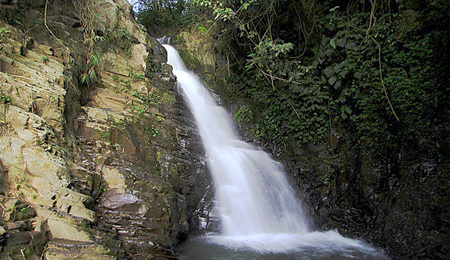 Subang Regency never stops to amaze tourists, especially when it comes to natural attractions. In this case, for those who like to visit beautiful places, they must choose Karembong Waterfall. It is located in Cicadas Village and belongs to Sagalaherang Sub-District, Indonesia. The good thing is that the waterfall resides within famous Capolaga Camp Ground! This explains why visitors are likely to enjoy both of them at once during the visit. In terms of name, Karembong means "Selendang" (traditional shawl). The locals gave the name of the waterfall based on the landscape and contour of soil, which is similar to a waving shawl.
The Nuance
Once arriving at the site, tourists would be impressed by swift flow of the water. The fact is that the waterfall has the slope of about 60 degrees. That means tourists can safely play water under the falls and take a shower there. Another important feature of the site is the presence of a refreshing pond under the waterfall. This place accommodates everyone who wants to take a bath there. Some locals even believe the pond is able to help them to get rid of some troublesome diseases like sores and rheumatism.
Exploring Karembong Waterfall
Many types of activities can be done in Karembong Waterfall. For example, visitors can take advantage of the beautiful environment for relaxation and photography. It is as simple as sitting on the rock and watch the waterfall peacefully. The nuance is quite peaceful as the waterfall is located in a secluded area. Even the air feels refreshing, as the site resides on the highland. This explains why most visitors choose the site in order to get rid of stresses and boredom.
The next allure of Karembong Waterfall is the swift water flow. Not only it gives a good atmosphere to the site, but it is also believed that the water offers a good water therapy effect to visitors. That means tourists can relieve several health issues and tiredness by simply taking a shower under the waterfall or taking a bath in the available pond. As for the tip, visitors should carry extra clothes if they decide to take a bath during the visit.
Here is another thing that makes Karembong Waterfall popular. The location is near to Capolaga Camp Ground. That means visitors can easily access such interesting tourist attraction and take advantage of available facilities there. These include the tents, foods, toilets, etc. However, it costs some money to get such benefits.
Nearby Attractions
Cilemper Waterfall
Tangkuban Perahu Mountain
Planet Water Boom
Cijalu Waterfall
Sawer Waterfall
Goa Badak Waterfall
How to Get There
From Subang City Indonesia, travelers only need to take a local transportation service and head to Sagalaherang Sub-District afterward. Later, they can simply visit Cicadas Village and conduct a short trekking to the waterfall. The whole trip takes about an hour as the distance is 29.8 km. As for the route, the best one is Palasari Dua – Babakan Street.
Where to Stay
Tea Garden Hotel
Sari Ater Resort
Ciater Hotel
Diamond Hotel